Miniature's Den paints Eylea, and Arkegonos is happy! is the title we wanted to give to this article that introduces our collaboration with one of the most successful artists in the world of miniatures.
Miniature's Den, stage name of Vincenzo Celeste, is a painter who we had the pleasure of meeting in recent months after following him for a long time.
According to what he reports, Den was artistically born in 2017 when he dedicated himself to his passion for miniatures in full swing. In a short time he demonstrated great skill and a unique trait of his kind, so as to guarantee him a vast following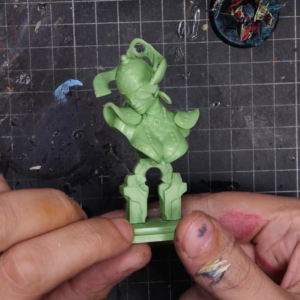 When we contact him,Den he had just finished painting a fantastic marine from the Warhammer universe. While we were discussing, he confided to us that he already had an eye on it Arkegonos and our miniatures. One in particular had struck him, our Eylea, which you see above, ready to be painted.
Furthermore, shared passions acted as the glue and for several hours we did nothing but talk about how he dedicated himself to the world of miniatures, and how we decided to invest in this sector.
The collaboration was born spontaneously, laying the foundations for a solid relationship that we hope will last over time.
And saw that Den he confided to us that he appreciated our Eylea, it seemed nice to start our collaboration by organizing a small schedule that sees us as protagonists of his work table.
Starting at 4pm today and for the next few days, on his Twitch channel https://www.twitch.tv/miniaturesden, you can see him at work painting Eylea. But not only! So many things are boiling in the pot … and soon you will see some good ones, we assure you!
Thanking him for the trust he has given us, we invite you to follow his channel!
See you later,
and thanks for everything, Den!
A più tardi,
e grazie di tutto, Den!