The more the days pass, the more it seems that our project meets the favor of artists and painters who offer us new and fantastic collaborations! The Art of Colors is a studio founded by Emanuele "Green" Terzoni, who since 2018 has mainly been involved in following companies and individuals in the hobby sector as well as on-line coaching and teaching of various painting techniques.
Growing up in the dark meanders of modeling among brushes, miniatures and acrylic colors, Emanuele has faced a path of personal development that has allowed him to prefer both airbrush and brush painting. Combining them to create natural and clean shades, he is focusing on particular techniques such as the feathering and striping, which use the tip of the brush to create streaks to be blended with subsequent filters.
By turning his hobby into a job, The Art of Colors has opened a twitch channel that serves as a reference point for the public and the modeling community, where it ranges from the use of particular techniques to real online lessons on topics addressed

When we met him, Emanuele showed all his sympathy as well as a great appreciation for our project. Impressed by the miniature of Acanthot, we decided to embark on a journey to rediscover this character from the Arkegonos universe.
In the live shows that his twitch channel will dedicate to our project, we will see Emanuele struggling with a volcanic and explosive version of Acanthot, far from the original but incredibly captivating.
The appointments will begin today, Saturday 12 June, on the twitch channel of The Art of Colors https://www.twitch.tv/greenartofcolors, to continue in the coming days based on the indications that Emanuele himself will give.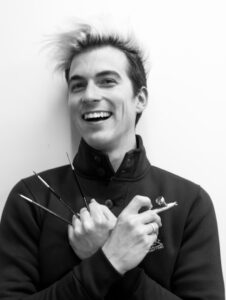 The friendship with Emanuele is already solid, and will bring many news of which, at the moment, we cannot reveal anything to you !!!
Keeping everything still Top Secret, we invite you to follow him at the following addresses to stay updated
https://www.facebook.com/GreenArtofColors
https://www.instagram.com/greenartofcolors/
See you soon
and as always #EnjoyArkegonos!